As a single mother in search of a more fulfilling job, Krystal Hall first learned about Matrix's Head Start Program from a relative who was working at Matrix's Care Village location. Upon further discussion about her goals for the future, Krystal took a step toward a better life by first enrolling her son and then her two daughters in Head Start classes.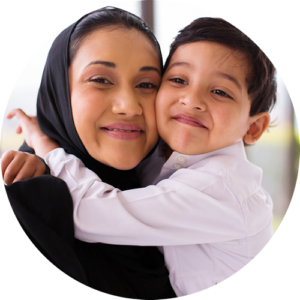 Her son Kortez, now six, began Matrix Head Start classes at the age of four at the Infinity 2 School. After attending for two years, Krystal saw firsthand the positive effects of what her child was learning in the classroom. She credits Matrix for doing an outstanding job helping prepare him for Kindergarten. "Kortez's teacher not only taught him early education skills that are important, but also critical social skills that helped him transition to the school he attends now."
Currently enrolled in Head Start classes, Krystal's daughters, Te-Anna, 5, and Te-Arra, 3, also attend the Infinity 2 location in Detroit. The Head Start program there is teaching her daughters colors, shapes, numbers and how to recite the alphabet. According to Krystal, even more important than just learning how to memorize her A-Zs, her children are being taught how to recognize the letters of the alphabet, which helps build vocabulary and written skills.
As her children gained skills in the classroom, Krystal's family advocate, Tonia, worked with her to create a resume. Since Krystal was with the same employer for six years she knew the job market was competitive and that she would need a proper resume in order to land a better job. Together, she and Tonia worked as a team to build a resume that eventually helped her secure a new job as a direct care worker with Independent Community Care Services.
One year later, Krystal remains in a positive work environment, which helps provide her with the stability to support her family. She adds, "I'm very grateful for Matrix Head Start instructors and Tonia who have made a huge difference in my life and the lives of my children."